Image: IG @burncookbook                                     
Do you want to lose weight, build muscle, or feel more fit? Join Team Athletic Mama, and get access to Beachbody's world-famous programs, including 21 Day FIX, 80 Day Obsession, and P90X. Don't miss out on your chance for amazing results. Join Tanya today!
If you're looking for Cinco de Mayo food ideas, then consider your search over! We put together a list of deliciously mouthwatering recipes that you'll want to make every day, not just May 5th.
These Cinco de Mayo recipes were created by two people who know food: Ultimate Portion Fix creator Autumn Calabrese and her brother Bobby, a professional chef and her co-host on their FIXATE cooking show.
What Is FIXATE?
FIXATE is a Beachbody On Demand cooking show that shows you how to cook easy, wholesome, portion-controlled meals.
Every recipe is designed to work with Beachbody's Portion-Control Container System and includes the nutritional breakdown and container equivalents — all you have to do is get cooking and eat.
Below are 12 FIXATE recipes to fill your Cinco de Mayo menu with irresistible dishes you'll want to make every day!
Pro tip: To get the full recipes, including ingredient amounts and step-by-step instructions, watch the corresponding FIXATE episodes on Beachbody On Demand.
Cinco de Mayo Recipes
1. Kid-Friendly Vegan Kale Nachos
Truth: A heaping plate of nachos is like a food pile of perfection. Crunchy tortillas, cheese, salsa, meat, and every topping you can think of — minus the kitchen sink.
Healthy? Not really. Delicious? Absolutely.
But thanks to Autumn and Bobby, now you can have your cake, er, nachos, and eat them, too, courtesy of their Vegan Kale Nachos recipe.
This healthier nacho recipe features all the ingredients you love: seasoned ground beef, tomatoes, black beans, onions, cheese, cilantro, with a clever swap — baked kale leaves in place of nachos.
Container Equivalents: 1 Green, ½ Yellow, 1 Red, ½ Blue, 1½ tsp.
2. Cauliflower Tacos
The humble cauliflower can magically turn into almost anything you can think of: bread, mashed potatoes, fried rice, and more.
In this FIXATE taco recipe, Autumn and Bobby swap meat for riced cauliflower then added flavourful spices like smoked paprika, cumin, and coriander.
Once you have these yummy vegan tacos, you might never go back!
Container Equivalents: 1 Green, 1 tsp.
3. Mexican Street Corn
In less than 15 minutes, you can be noshing on crisp grilled corn that's a little bit smoky, a little bit spicy, and a whole lotta delicious.
Mexican Street Corn, or elote, is so easy to make — just grill the corn and slather it with a creamy mixture of FIXATE Mayonnaise, sour cream, two different kinds of crumbly cheese, garlic, and chili powder.
#YUM.
Container Equivalents: ½ Yellow, ½ Blue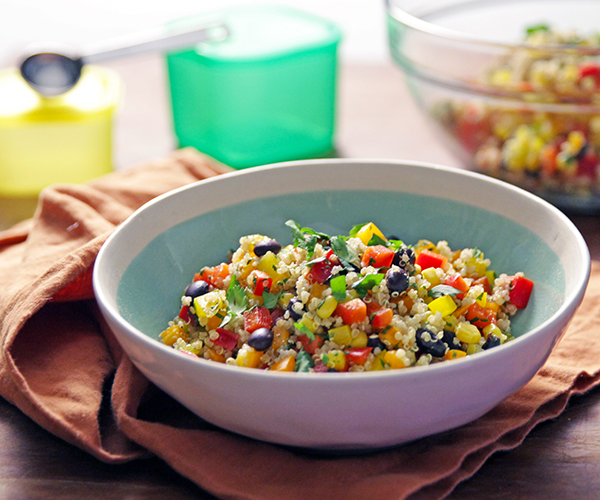 4. Quinoa and Black Bean Salad
This a great salad for meal prepping and days when you don't have a lot of time to put a meal together.
Just cook a big batch of quinoa, do a little chopping, then throw all the ingredients together in a bowl. Lunch=done.
Black beans, crunchy, colorful bell peppers, corn, and quinoa are tossed with tart lime juice, red wine vinegar, and olive oil for a refreshing salad with bright flavors.
Container Equivalents: ½ Green, 1 Yellow, 1 tsp.
5. Chicken Enchiladas
Who doesn't love a savory, saucy chicken enchilada recipe?
No one will be able to resist these enchiladas filled with tender shredded chicken and covered with a spicy tomato sauce and melty cheddar-jack cheese.
Container Equivalents: ½ Green,½ Purple, 1 Red, 1 Yellow, 1 Blue, 1½ tsp.
6. Chicken Tinga Tacos
Once you get a taste of these beauties, Taco Tuesday is going to be an everyday event. Tender shredded chicken breast soaks up a spicy tomato sauce for a mouthwatering meal.
Leftovers are even better, as the chicken has even more time to absorb the rich, bold spices and flavors.
Container Equivalents: 1 Green, 1 Red, 1 Yellow, 1 tsp.
7. Chicken and Veggie Quesadilla
Quesadillas are like pizza – there's no such thing as "bad" pizza, right? After all, it's hard to go wrong with the dependable tortilla + cheese + meat combination.
The FIXATE version, however, levels up that combo with saucy, shredded chicken breast, chopped vegetables, and, of course, cheese.
Container Equivalents: 1 Green,½ Red, 1½ Yellow, 1 tsp.
8. Tamale Bowls
You say tamale, I say tamale BOWLS. This gorgeous FIXATE tamale recipe features a unique twist on the traditional recipe.
Instead of the corn-based dough (masa) wrapped around a filling and then steamed in a corn husk, Autumn and Bobby created this tamale recipe with dumplings. (I repeat, DUMPLINGS).
The delectable dumplings then go in a bowl and are topped with a scoop of shredded chicken that's been cooked in a mouthwatering broth with spices like smoked paprika, cumin, oregano, chili powder, and more.
Container Equivalents: ½ Purple, 1 Red, 1 Yellow, ½ tsp.
9. Turkey Taco Lettuce Wraps
These toothsome turkey tacos will win over crunchy taco fans, guaranteed.
The lettuce leaves are the perfect crisp, refreshing vehicle for lean turkey meat that's been simmering with cumin, chili powder, paprika, oregano, and onions.
Container Equivalents: 1 Green, 1 Red
10. Steak Fajitas
We've all experienced the FOMO when you're at your favorite Mexican restaurant and that sizzling platter of fajitas passes by your table.
Luckily, you don't have to leave your house (or watch those fajitas go to another table) with this steak fajitas recipe.
You can almost smell the aroma of sizzling flank steak with onions, bell peppers, and spices just reading this, amirite?
Container Equivalents: 1 Green, 1 Red, 1 Yellow, 1 tsp.
11. Mexican Drinking Chocolate Shakeology
No Cinco de Mayo celebration would be complete without a Cinco de Mayo drink — in this case, a Mexican Drinking Chocolate Shakeology.
Mexican drinking chocolate is like slightly thicker hot chocolate, with notes of cinnamon and cayenne pepper for a little kick.
This FIXATE version is a cold drink, made with Chocolate Whey Shakeology, warming spices, and a secret ingredient — chopped zucchini.
Zucchini is mild-tasting, so you won't even taste it, but you will enjoy the extra creaminess that it adds to this yummy drink.
Container Equivalents: 1 Green, 1 Red, 1 Yellow
12. Vegan Chocolate Avocado Pudding
For this FIXATE recipe, Autumn and Bobby took the classic childhood dessert and added their own modern twist.
Avocados and semi-sweet chocolate chips blend together to provide a silken, chocolatey smoothness that's irresistible for kids of all ages.
Container Equivalents: 1 Yellow, 1 Blue (Vegan Container Equivalents: 1 Yellow B, 1 Blue)
Join Beachbody On Demand today to watch the FIXATE Cooking Show and get these delicious Cinco de Mayo recipes and more.